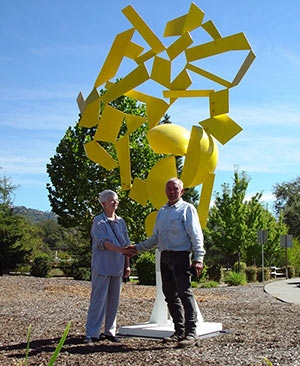 William Wareham won Best of Show in 2005 for his sculpture "Without a Shout". William describes his sculpture as "Organized chaos or disorganized order"? I am trying to find that balance where these two actions (order and chaos) find a brief harmony of diffused energy in collaboration. This is an abstract formalist sculpture that in a metaphorical way relates to our daily lives. From the order we shape our lives inside to the unknown, and perhaps the disorder we will encounter around the corner. We try to find equilibrium and balance in our lives, sometimes we are more successful than others. "Without a Shout" is 10′ x 10′ x 3'; Composition: Painted re-cycled steel.
From his earliest years as a fine art student at UC Berkeley, William has created series of works with a strong common thread. He achieves some of the most consistently accomplished compositions in contemporary sculpture through his concern with the medium and technique.
William has been using recycled steel as the primary source for his sculptures. Yet, he goes far beyond what most artists do with recycled materials. It is the pre-used history that the material inherently holds that inspires him. Worn-out metal pieces and objects continue to have life by gathering, refocusing, and rejoining into a collective other life.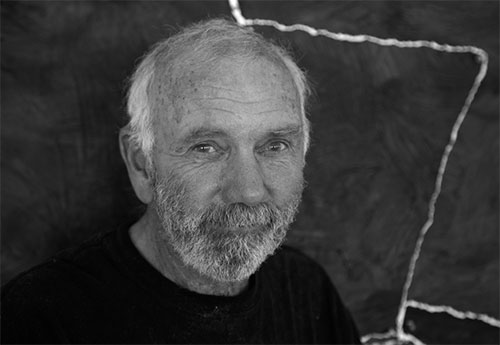 Wareham was a recipient of a National Endowment for the Arts in 1974 and the Eisner Prize for sculpture at UC Berkeley in 1968 and 1969. In 1999, he was awarded an artist residency at Djerassi in Woodside, CA. Currently William is an artist in residence at Lava Rock in Siskiyou County near Montague.
"Without a Shout" was donated to the city in 2006 and moved to its currently location on Citrus Fair Drive near the Boulevard. Visit www.williamwareham.co for more information on William and images of artistic endeavors.