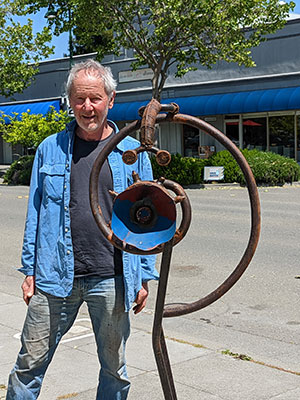 Stan Huncilman is a sculptor choosing to apply poetic, and often metaphorical language to form. Stan creates forms that do not follow logical criteria but are based on subjective associations and their formal parallels, which incite the viewer to make new and often personal associations.
His works are based on formal associations which open a unique poetic vein. Multilayered forms arise in which the fragility and instability of our seemingly certain reality is questioned.
His sculpture, "Hekate" is 60" H x 32" W x 24" D, weight 110 lbs. Composition, formed and welded steel, rusted and coated with penetrol. Passion and reality are distinct entities and perhaps not always in harmony. How would that translate into a sculpture. Hekate started with the remnants of earlier sculptures and is a change in direction. A sculpture at a crossroads.
Artist Statement
My sculptures can appear as dreamlike images in which fiction and reality meet, well-known tropes merge, meanings shift, past and present fuse. Time and memory always play a key role. By applying abstraction, I create intense interactions by means of rules and omissions i.e., mass, balance, and implied motion(s), luring the viewer round and round in circles.
My works often don't reference recognizable forms. The results are deconstructed to the extent that meaning is shifted, and possible interpretation becomes multifaceted. By choosing mainly whimsical solutions, I amplify the curiosity of the spectator by creating compositions that stir the poetic by means of balance and perturbation.
Sponsor: Plank Coffee & Roastery
Photo by Jude Gibson
Call Janet @ 707-293-7426 for purchase information