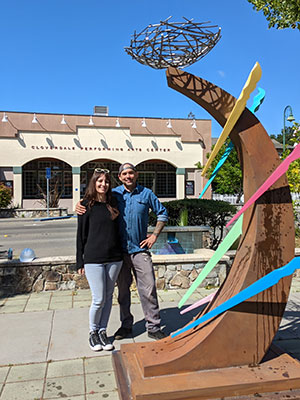 Hector M. Ortega and Taryn Moore, Arizona based artists, have collaborated to create a sculpture for the 2022-2024 Trail titled "Icarus".
This sculpture consists of a series of fabricated elements derived from numerous conversations and, drawings to move their artistic endeavors forward with the idea of nesting birds and their journeys as they progress through life. Hector and Taryn melded their different styles into a dynamic sculptural form that has roots in mythology and modern materials.
Located on the corner of E. 2nd Street and Cloverdale Blvd., Icarus is 8'6" H x 3'9" W x 5' D, weight 800 lbs. The composition is fabricated steel and painted steel. The sponsor for this unique sculpture is Management Connections.
Artist Statement
Hector: My work focuses on abstract based three-dimensional volume forms, their relationships, interconnections, and constraints among each other. Life's experiences, constraints, emotions, and current natural environment at hand often inspire the interconnections between each fabricated element of any given work.
Taryn: I have immense love for the natural world and observance of human emotion and strife. I combine the two aspects of life with a twist of imagination and surrealism. My perspective on caring for nature, animals and fellow man is emphasized in my work through color and symbolism
Sponsor: Management Connections
Photo by Jude Gibson
Call Janet @ 707-293-7426 for purchase information