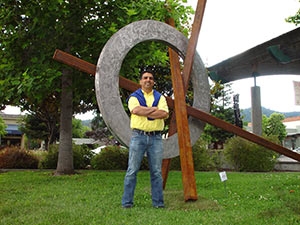 Bockack Emad's sculpture "Shadows of Eternity" was donated to the City of Cloverdale by the Voight Family Sculpture Foundation in 2010, after winning Best of Show in the 2009 Sculpture Exhibit. This sculpture is in the park setting across from the fair grounds.
As an architect, the play of light and the changes of shadows indicating time, were starting points for his work. "Shadows of Eternity" embraces ideas of permanence with material and monumental form, but also impermanence with the integration of the sundial into its design. The environment affects the core ten pieces of the work, their patina evolving and changing over time unlike the stainless steel, which is in its ever-reflective nature never changes. It honors the past and future with the linear elements appearing to move, with lines coming together to form a moment or memory, while the ring establishes a closing loop of group experience.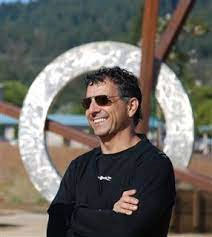 According to Boback, "Shadows of Eternity portrays memory, and its allusive, interpretive nature. The linear elements move in very different directions, and with differing vantage points. These differences come together in one moment, or memory. The ring, and the space that it contains, exposes the relationship of these diverse participants at a given moment in time. Indeed, a memory that is shaped and supported by the diversity that created it."
Whether he is working on a monumental stainless-steel sculpture or an intimate painting with tar or watercolor, Boback's focus is on compositional expressions using geometric exuberance as an expression of the world he sees around him.
Visit www.boback-emad.com for more information on Boback and images of artistic endeavors.
Sponsor: Voigt Family Sculpture Foundation
Photo by Tedd Peterson