The Latest – or go to What's New page
We've updated our Sponsor/Donate/Volunteer section and added a new section. In their own words, some of our volunteers/sponsors/donors tell us why they support the trail. We'd love to hear your story too.

Kids say and do the funniest things around art, and we've now added a tab in our "Past" section called "Snapshots" for the family pictures we've been sent. Send us your sculpture trail pictures of your child, or family, or even a selfie with one of the sculptures and we'll put it them.
Diego's new sculpture has been installed at the corner of 3rd Street and Cloverdale Blvd. After much contemplation Diego is giving this sculpture the title of "Tidal Wave" There is a saga behind the new sculpture replacing "Being". Select Diego's name to read all about it.

Thank you for joining us "Down Memory Lane". The vote for favorite Sculpture from each year's Best of Show winners is in. Read about the overall winner here.
Artist Highlights
December's Artist Spotlight features "Celestial Poodle" by Robyn Spencer-Crompton & Peter Crompton a well-known husband and wife team. They collaborate on many creative projects ranging from theatre design to fine art. Peter specializes in the sculptural form and Robyn in mosaic surface design. … Read more by selecting artists name


Residents and tourists alike applaud the fact that Cloverdale's small town charm is now updated with sophisticated sculptural diversity unmatched in Sonoma County.

The Trail is a stimulating environment for children to encourage development, especially language. It can expand curiosity, boost creativity and it's fun and free.
Cloverdale
Located 80 miles north of San Francisco, Cloverdale is nestled among gently rolling hills and lush vineyards at the top of the renowned Alexander Valley. Its older homes, tree-lined neighborhoods and friendly residents give the town a small town character to be experienced. The walkable Cloverdale Sculpture Trail is in downtown Cloverdale. Download the printable map and enjoy the Trail.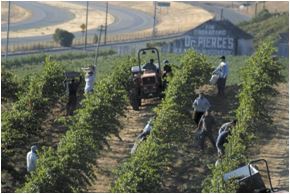 What is Public Art?
Read About The Sculpture Trail Process
View Installation day 2022 – 2024
It's public! Everyone has access to public art. It's directly in the public sphere and not confined to galleries or museums. It enriches Cloverdale's physical environments, bringing streetscapes to life. It also adds enormous value to the cultural, aesthetic and economic vitality of a community. Public art contributes to a community's identity, fosters community pride and a sense of belonging, and enhances the quality of life for its residents and visitors.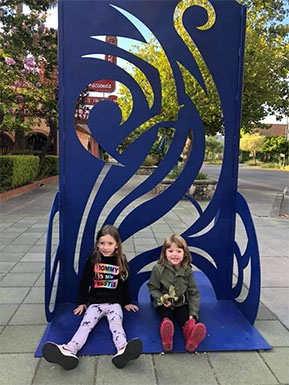 The talent and creativity of the many sculptors, whose sculptures have graced the streets of Cloverdale, have kept the Cloverdale Sculpture Trail alive for 17 years. Persue "Past Trails" to enjoy the artistry of past sculptors.
A complete list of sponsors, donors and volunteers can be found at the Sponsorships Page under Thank You to Our Sponsors and Donors.
2022 – 2024 Sculpture Trail Video