Find out about the free Sculpture Tour on the Otocast Mobile App
Artist Highlights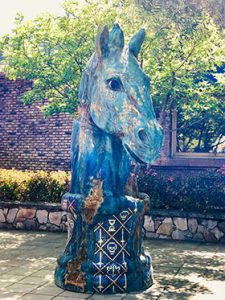 Every month we add artist highlights to the Sculpture Gallery. Check back to view the latest!
The latest sculpture by Peter & Robyn Crompton, the "Knight", was created using fortified reinforced concrete and gold leaf. Peter Crompton and Robyn Spencer Crompton, from Santa Rosa, are well known as a creative husband and wife team collaborating on many projects. … more
Residents and tourists alike applaud the fact that Cloverdale's small town charm is now updated with sophisticated sculptural diversity unmatched in Sonoma County. Each year the streets are lined with an array of playful and provocative sculptures. The 2019-2020 Cloverdale Trail has on exhibit 19 sculptures by respected sculptors. What better way to spark your Imagination than with this impressive exhibit of public art?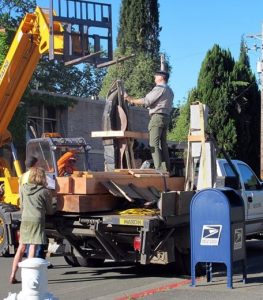 It takes a village to produce a sculpture exhibit, and that is what has happened over the past 16 years. During the past years I reached out to the community for a variety of tasks that needed to be done – welding, painting, engineering, photography, website, brochures, news articles, posters and more. I would like to thank the 2019 Cloverdale village: the volunteers, especially my indispensable associate, Janet Howell, the City of Cloverdale and the Cloverdale Historical Society, Producers of the Cloverdale Sculpture Trail, as well as past supporters.
The village also includes major sponsors, sculpture sponsors and donors. Without financial support sculptures in Cloverdale would not have had a life span of 16 years, and perhaps to continue for at least 15 more years with continued financial support and volunteers.
Finally, I want to recognize the many talented sculptors, whose sculptures have graced the streets of Cloverdale during the years. Their talent and creativity have kept the Cloverdale Sculpture Trail alive. Peruse Past Trails to enjoy the artistry of past sculptors.
A complete list of sponsors, donors and volunteers can be found at the Sponsorships Page under Thank You to Our Sponsors and Donors.
Joyce Mann, Coordinator- Cloverdale Sculpture Trail
The purpose of public art is not only to enrich the community and improve our quality of life through its ability to enrich an environment, but also to ignite the imagination, encourage thought and to prompt discourse.