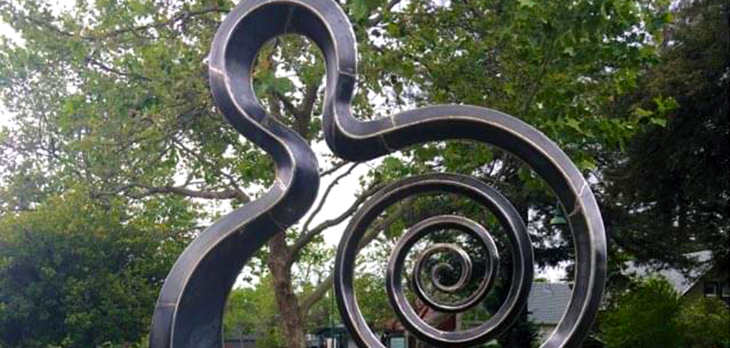 Founded in 2003, the exhibit brings public art to the downtown Cloverdale Business District to advance knowledge of and interest in public art that enriches Cloverdale and fosters a spirit of cooperation and fellowship among artists and the community. This display of high quality sculptures presents to the Cloverdale community and visitors the transmutation of material and the imagination of the sculptor. The Sculpture Trail is a public art museum without walls, free to the public to explore, discuss and enjoy.
The Latest – or go to What's New page
We couldn't do it without you, and our village of volunteers who have helped make the Trail a success. Mary Ann Brigham has been added to our list of volunteers with a bio for those not familiar with Mary Ann's community accomplishments. Are you on the long list of volunteers over the years?

With the current Cloverdale Sculpture Trail exhibit up since May, let's test your knowledge of the 2022-2024 exhibit with our newest quiz .
Newest feature on the website is a directory of all artists who've participated in the sculpture trail. To support this feature, we've added several more past exhibit pages to showcase past sculptures.

Kids say and do the funniest things around art, and we've now added a tab in our "Past" section called "Snapshots" for the family pictures we've been sent. Send us your sculpture trail pictures of your child, or family, or even a selfie with one of the sculptures and we'll put it them.
Artist Highlights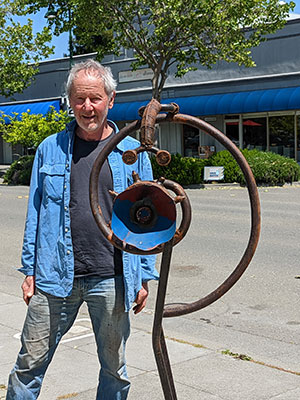 January's Artist Spotlight features Hekate by Stan Huncilman, a sculptor choosing to apply poetic, and often metaphorical language to form. Stan creates forms that do not follow logical criteria but are based on subjective associations and their formal parallels, which incite the viewer to make new and often personal associations. … Read more by selecting artists name


Residents and tourists alike applaud the fact that Cloverdale's small town charm is now updated with sophisticated sculptural diversity unmatched in Sonoma County.

The Trail is a stimulating environment for children to encourage development, especially language. It can expand curiosity, boost creativity and it's fun and free.
Cloverdale
Located 80 miles north of San Francisco, Cloverdale is nestled among gently rolling hills and lush vineyards at the top of the renowned Alexander Valley. Its older homes, tree-lined neighborhoods and friendly residents give the town a small town character to be experienced. The walkable Cloverdale Sculpture Trail is in downtown Cloverdale. Download the printable map and enjoy the Trail.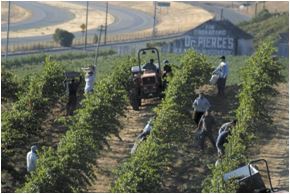 What is Public Art?
Read About The Sculpture Trail Process
View Installation day 2022 – 2024
It's public! Everyone has access to public art. It's directly in the public sphere and not confined to galleries or museums. It enriches Cloverdale's physical environments, bringing streetscapes to life. It also adds enormous value to the cultural, aesthetic and economic vitality of a community. Public art contributes to a community's identity, fosters community pride and a sense of belonging, and enhances the quality of life for its residents and visitors.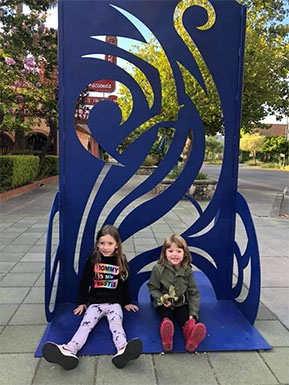 The talent and creativity of the many sculptors, whose sculptures have graced the streets of Cloverdale, have kept the Cloverdale Sculpture Trail alive for 17 years. Persue "Past Trails" to enjoy the artistry of past sculptors.
A complete list of sponsors, donors and volunteers can be found at the Sponsorships Page under Thank You to Our Sponsors and Donors.
2022 – 2024 Sculpture Trail Video