What's New
Try a Mystery Sculpture Jigsaw Puzzle. We're not going to show you what the finished puzzle looks like, you have to figure that out. When you complete it, we will show you the artist and sculpture name. Have fun!

Exciting Volunteer Opportunities. Volunteering can be fun and satisfying. The Cloverdale Sculpture Trail is putting together a creative coordinating team to replace the current coordinator who is retiring.
It is possible the historic Gould House is haunted. Are you ready for Halloween ghost stories? How many tricks instead of treats might you receive? COME ON IN


We'd love some help with our Google Profile! Did you know you can add reviews and your own images of the Sculpture Trail? Please visit our Google profile and add yours.
Artist Highlights
Bockack Emad's sculpture "Shadows of Eternity" was donated to the City of Cloverdale by the Voight Family Sculpture Foundation in 2010, after winning Best of Show in the 2009 Sculpture Exhibit. This sculpture is in the park setting across from the fair grounds. Read more…


Residents and tourists alike applaud the fact that Cloverdale's small town charm is now updated with sophisticated sculptural diversity unmatched in Sonoma County. Each year the streets are lined with an array of playful and provocative sculptures. The 2020-2022 Cloverdale Trail has on exhibit 19 sculptures by respected sculptors. What better way to spark your Imagination than with this impressive exhibit of public art?
Cloverdale
Located 80 miles north of San Francisco, Cloverdale is nestled among gently rolling hills and lush vineyards at the top of the renowned Alexander Valley. Its older homes, tree-lined neighborhoods and friendly residents give the town a small town character to be experienced. The walkable Cloverdale Sculpture Trail is in downtown Cloverdale. Download the printable map and enjoy the Trail.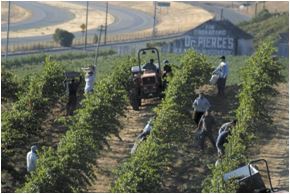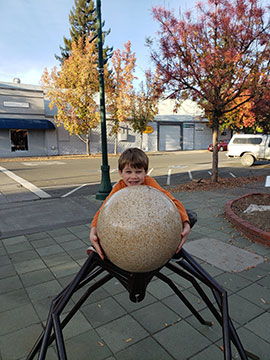 What is Public Art?
Read About The Sculpture Trail Process
It's public! Everyone has access to public art. It's directly in the public sphere and not confined to galleries or museums. It enriches Cloverdale's physical environments, bringing streetscapes to life. It also adds enormous value to the cultural, aesthetic and economic vitality of a community. Public art contributes to a community's identity, fosters community pride and a sense of belonging, and enhances the quality of life for its residents and visitors.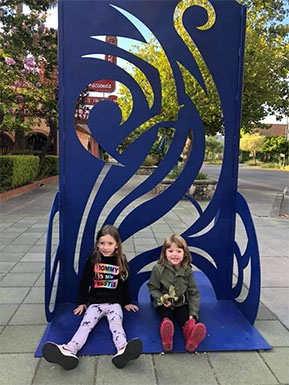 The talent and creativity of the many sculptors, whose sculptures have graced the streets of Cloverdale, have kept the Cloverdale Sculpture Trail alive for 17 years. Persue "Past Trails" to enjoy the artistry of past sculptors.
A complete list of sponsors, donors and volunteers can be found at the Sponsorships Page under Thank You to Our Sponsors and Donors.
2020 – 2022 Sculpture Trail Video