2020-2021 Cloverdale Sculpture Trail Online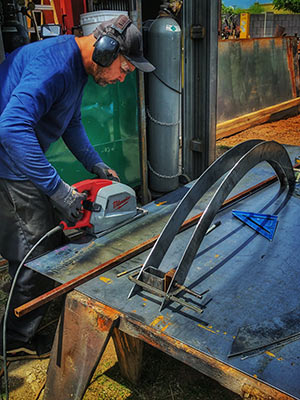 While we are sheltered from one another to help prevent the spread of coronavirus, we offer an alternative to our outdoor 2020-2021 Cloverdale Sculpture Trail. We have created a Sculpture Trail Flip Book. When we can install the new sculptures, the value and beauty of our public art will again be on display.

The installation date of the 2020-2021 Cloverdale Sculpture Trail will be publish here and in the media. The rest of the material at this website refers to the 2019-2020 Sculpture Trail, which is still installed.
Artist Highlights
Every month we add artist highlights to the Sculpture Gallery. Check back to view the latest!
David Mudgett of Walnut Creek is participating in the 2019-2020 Cloverdale Sculpture Trail. His sculptures have been shown extensively in CA and can be found in both public and private collections. … more


Residents and tourists alike applaud the fact that Cloverdale's small town charm is now updated with sophisticated sculptural diversity unmatched in Sonoma County. Each year the streets are lined with an array of playful and provocative sculptures. The 2019-2020 Cloverdale Trail has on exhibit 19 sculptures by respected sculptors. What better way to spark your Imagination than with this impressive exhibit of public art?
Cloverdale
Located 80 miles north of San Francisco, Cloverdale is nestled among gently rolling hills and lush vineyards at the top of the renowned Alexander Valley. Its older homes, tree-lined neighborhoods and friendly residents give the town a small town character to be experienced. The Cloverdale Sculpture Trail in downtown Cloverdale can be found in a walkable cultural corridor of art galleries, Performing Arts Center, wine tasting restaurants, shops and a Museum and History Center.
Public Art
Read About The Sculpture Trail Process
The purpose of public art is not only to enrich the community and improve our quality of life through its ability to enrich an environment, but also to ignite the imagination, encourage thought and to prompt discourse.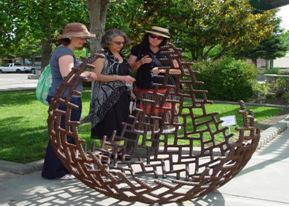 The talent and creativity of the many sculptors, whose sculptures have graced the streets of Cloverdale, have kept the Cloverdale Sculpture Trail alive for 16 years. Persue "Past Trails" to enjoy the artistry of past sculptors.
A complete list of sponsors, donors and volunteers can be found at the Sponsorships Page under Thank You to Our Sponsors and Donors.

Sculpture by David Mudgett