Thank You Sponsors and Donors | "It Takes a Village" | Why Volunteer | Looking for Volunteers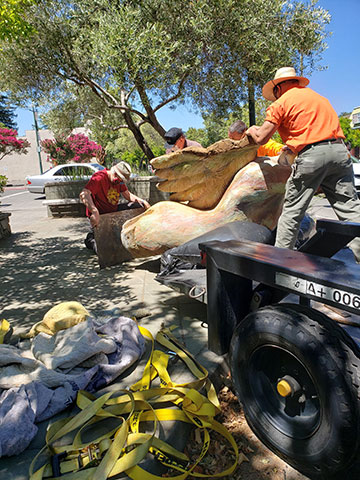 CPAC
The Cloverdale Performing Arts Center, the producers of the Cloverdale Sculpture Trial, appreciate the support of local businesses and individuals in Cloverdale and beyond. Sculpture Trail patrons sponsor sculptures, donate monies, and provided volunteer support to keep public art alive in Cloverdale.
Sponsorships
Sponsorship ($250) donations go directly to the sculptor to help defray sculpture transportation costs.
If you are interested in exploring a sponsorship for 2022-2023 Cloverdale Sculpture Trail contact Joyce at jmannfor@gmail.com or phone the Cloverdale Sculpture Trail, 707-894-4929.
Donations
Donations of any amount are needed to cover general expenses that occur during the planning stages each year and throughout the exhibit period. The Sculpture Trail is planned and executed by volunteers, therefore your donation will assist with the continuation of public art in Cloverdale.
Donations can be made online or mailed to the Cloverdale Performing Arts Center c/o Joyce Mann, P.O. Box 443, Cloverdale, CA. 95425. On the "memo" line of the check add Sculpture Trail
The Cloverdale Performing Arts Center is a 501(c) 3 organization and donations are completely tax-deductible. On behalf of the many who will enjoy the 2022-2024 Cloverdale Sculpture Trial because of your sponsorship/donation, thank you.