"Run Home" 2013
26' tall, 750 lbs, painted steel
Run Home was created 4 years ago while day dreaming of years past at home in Geyserville. The project has continued through drawings, paintings and smaller scale sculptures over the years.
With help from the Voigt Sculpture Foundation, Max Heiges' Run Home project continued on in its largest scale yet.
Heiges is a sculpture who lives and works in Brooklyn. He was raised in Geyserville and returns whenever possible.
The Voigt Sculpture Foundation was founded in 2005 by Judy Voigt and her husband, the late Al Voigt, business owners and residents of Sonoma County, California for 30 years. The Voigts founded and sold two successful technology firms, and Al held more than two dozen patents. Al was an artist as well as an inventor, and the family's passion for outdoor sculpture grew over the years. The family also supports the community, through leadership, volunteerism, and philanthropy. Al and Judy founded the Voigt Family Sculpture Foundation to facilitate the installation of larger outdoor sculpture in publicly accessible places. The foundation is developing educational programs for local schools and works cooperatively with other arts groups.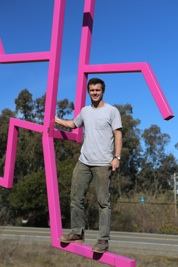 The Mission of the Voigt Sculpture Foundation is to promote an appreciation for sculpture in Sonoma County, California. By serving as a catalyst for sculpture installations and projects, the foundation will promote the county as a destination for art lovers.
Max was an artist in residence at the Voigt Ranch, where he scaled his small maquette up to 26 feet tall with the assistance of Doug Unkrey, the foundation's handyman and mechanical wizard.
Healdsburg photographer Rick Tang documented the installation of "Run Home" in February 2013.