New 2020-2022 Cloverdale Sculpture Trail Otocast is Here! Available in Spanish too!
See, Hear, Explore the 2020-2022 Cloverdale Sculpture Trail in the safety of your home. A self-guided, audio tour of the exhibit is possible through the use of Otocast's free app.
The current sculptures are displayed on a map with directions to the locations if you are in or near Cloverdale.  The tour includes sculptor information, an image of each sculpture and best of all, the audio comes from the actual artists describing his or her sculpture you are viewing.
This year we have added a new feature, you can select to hear the artists' audio in English or Spanish. Thank you Yave Guzman for translating the English audio clips into Spanish.
To enjoy the audio guide you download through Google Play or the Apple App Store the free Otocast app, which includes the Cloverdale Sculpture Trail. Enjoy the experience of public art in Cloverdale.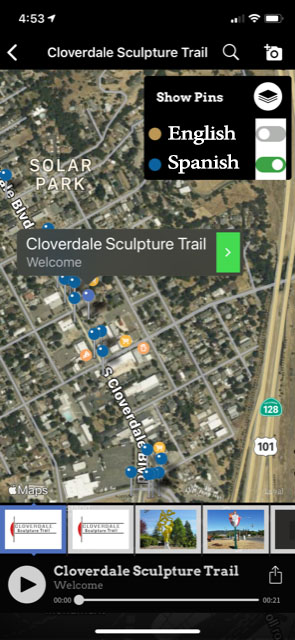 All the sculptures are displayed on an interactive map, with descriptions and directions wherever you are, or enjoy the tour on your smartphone. Sculptor information is available, including an image of each sculpture on the Trail. Press play and listen to the artist talking about his/her sculpture you are looking at.
Get the free Otocast app at:
Apple App Store

or Google Play
How to use Otocast