The 2022-2024 Cloverdale Sculpture Trail by Otocast is now available to view and listen to the sculptors talk about their sculpture on display.
There are two images of each sculpture; the second image is the Spanish Version. Yave Guzman again provided us with the Spanish translation of the artists' sculpture audio Thank you Yave.
See, Hear, Explore the 2020-2024 Cloverdale Sculpture Trail in the safety of your home or anywhere in the world.
The sculptures are displayed on a map with directions to the locations if you are in or near Cloverdale. The tour includes sculptor information, an image of each sculpture and best of all, the audio comes from the actual artists describing his or her sculpture you are viewing. You can select to hear the artists' audio in English or Spanish.
If you have a smart phone with a QR code app you can access the Otocast Sculpture Trail by using the code which is on the our brochure and on the sign next to each sculpture. Use your camera to take you to the Otocast Trail.
Another way to enjoy the audio guide, download through Google Play or the Apple App Store the free Otocast app, which includes the Cloverdale Sculpture Trail. Enjoy the experience of public art in Cloverdale.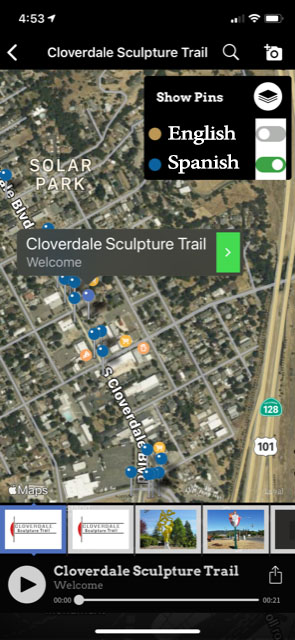 Get the free Otocast app at:
2. or Google Play

3. Also Available to view on your device without the app.
April 2022 will begin the change of an annual Sculpture Trail to a two- year exhibit. The current exhibit will run until April 25, 2024.
9 new sculptures in the Sculpture section were install on April 28th. Each is unique in terms of how the artists uses and controls space and form. The artist must consider details like height, depth, volume, and shapes when it comes to designing their work of art and the safety of the viewing public
The new sculptures can be viewed in the Sculpture section.
How to use Otocast