Artist Statement
My foundation in art and object-making is rooted in my background as an urban artist. I utilize line quality and shape to create compositions that express movement, construct form, and hone texture into surface. I have developed a unique visual language which in its own parlance speaks a variety of scale, medium, and form through self educating and working with artists who have diverse social, technical and artistic backgrounds.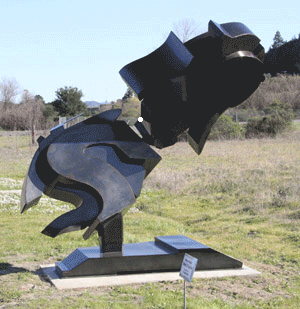 Architecture and design have been my interests since childhood. My casual and perused research in these areas has been the building blocks for my style and it weaves throughout my work. My work upholds classical line and form, while keeping modern ideas and the urban tableau.In the past decade my work has grown in depth as well as in size. The more work I produce, the more my work shifts and grows.
Having the experience of creating large outdoor two-dimensional work, it has made me push my three-dimensional work off the pedestal, and then recently out the door of the gallery in to the public realm. The work growing in size and technical achievement, it begs public interaction. Showing it outside a traditional gallery setting allows the viewer the ability to interact with each piece on a much more personal level. It invites the viewer to be an active participant in the experience all allows them to develop their own relationship with each piece and interpretation of the work.
This was cemented for me at this past years Burning Man where I showed my latest and largest work the "Cosmic Carousel". The piece required awareness of the environment and it necessitated interacting with the others.My process has grown and changed over the last 10 years, just as technology has affected how we as a society produce our consumables.
The Cosmic Caresoul is a brushed aluminum sculptural form levitating just above the surface of its location. Form has nothing to do with function and everything to do with funkin. During the day it rests under the sun, serving as an inspiringly cosmic piece of sculpture, a visual gift of form and balance. During the night it comes alive as a kinetic interactive play thing for those whom wish to climb aboard and propel the 360 degree rotation by pulling on the centrally located wheel. The harder these Cosmonauts pull, the faster the Cosmic Caresoul will spin, sending all aboard on a voyage through the creative dimensions of the mind and faculty of the combined human spirit, for when upon the Cosmic Caresoul you are neither here nor there, you are simply are.
My work is developed by traditional metal casting techniques, evolving to use a variety of materials. Accessible technology has created more efficient manufacturing and and more daring art making. This past year I have begun to experiment with cutting edge technological processes, such as water jet cutting and three-dimensional printing. It is the printing that really peaks my interest. Throughout the last decade it was used exclusively for prototyping. Today it is becoming a viable manufacturing process and has become a valuable tool in my arsenal of art production.
The work that I create speaks to a democratized public art experience, one that is rife with aesthetic, form and an open sense of meaning, making it accessible to a broad and diverse public. The work will continue to grow and change just as I do as a person, as an artist and we do as a society.
Biography
Michael was born in Pittsburgh Pennsylvania where he began his creative journey. He had no intention of becoming an artist, per say; yet art found him and it altered his life trajectory. This passion has taken many directions in a variety of creative practices including urban painting, interior design and sculpture. Michael has used his life experience and interaction with other artists and designers as his textbooks and the studio as his classroom. Free of traditional academic rigors, he has been able to discover his work in a way that is completely exclusive to his journey.
In 1999, Michael opened his own art and design studio in Pittsburgh that would fuel his curiosity and need for professional growth. It would be this decision that would lead to numerous public art offerings, gallery exhibitions, as well as hospitality design commissions that would prove very successful in the United States and in Canada.
In 2002, Michael set up a satellite studio in Toronto, where he continued to expand his sculptural work and his design reach. In 2003, he was in a two-person show with artist Ryan Case Mackeen at the Here and Now Gallery. They were featured in The Toronto Star article "Grabby Graffiti finds a room of its' own" January 11, 2003 by Peter Goddard. Michael would begin to develop a distinct aesthetic through his distillation of line, composition and historical influences, which carries through his work today.
After closing his Toronto operation in 2003 he moved back to Pittsburgh to focus his attention primarily on interior design commissions – realizing many of his design concepts. This period in time was valuable to his growth and understanding of materials and fabrication techniques, project management, budgeting, and industry standard practices that would make constructing his larger scale ideas possible.
In 2007, Michael began metal casting. This would prove to be a discovery that would change his work forever. He feels that discovering the cast metal process was like a writer finding new alphabet. His work had a new lens to be conceived through and it solved some of the technical issues he was having with fabricating the forms. It opened the door to making work that would have otherwise been relegated to living in the pages of his sketchbook. He developed new techniques that would evolve into alternate processes and push his creativity in an organic direction.
In 2008, Michael moved from Pittsburgh to Miami, Florida where he really began to assimilate his artistic experience into a new forms and aesthetics. His work was on display extensively while living there resulting in a large piece that now resides in private collection within the city.
In 2011, Michael moved to Oakland, California where he currently lives and works. Shortly after touching down in the Golden State, he set up a space in The American Steel Studios in West Oakland. It is there that he is really able to begin to incorporate his years of art making, bringing together fabrication, painting, casting and CAD CAM printing under one roof. The ability to have all process at his fingertips has enabled Michael to produce and show work at a rate that is unprecedented for him. This culminated with the inception of the "Cosmic Carousel" that was conceived in mid-2012 and brought to fruition by his capable studio staff for exhibition at this years Burning Man in Black Rock City, Nevada. The piece was so well received and it changed – yet again – what he thought was possible in his work.The artist plans to expand upon these concepts.
Michael is perpetually informed, challenged and reinvented. His work continually spurs dialogue between the history and heritage of metal manufacturing and modern industrial techniques and production, while staying true to his roots creating an original style.