Virginia Harrison was born in Denver Colorado in 1950. She was raised in an elegant mansion and was destined to become a debutant. However her inclination toward sculpting had already begun in her father's tool shop and in the Rocky Mountains. After 2 years at a woman's college in Virginia she traveled to Europe and India. She married Allan in 1974. They raised two daughters who remember the numerous art and craft projects that were the mainstay of playtime.
In 1988-90 she attended Sonoma State University, pursuing her love of tools and sculpture. She wove her first basket out of copper and aluminum wire for and installation she called "Mother Basket". After graduating she was hired at the Bronze Plus foundry in Sebastopol as a metal chaser. She continued to weave copper baskets, and during that time developed a way to weave with bronze wire. At the foundry bronze wire is used for welding, but by casting a bronze bowl as a base and welding bronze spines to it she found it was possible to weave the welding wire in the open spines. She then soldered another larger wire around the top to finish the vessel. Soon she found that she was able to go beyond the vessel shape and create more and more complex sculptures. The patina which was added at the end gave the color which completed the work.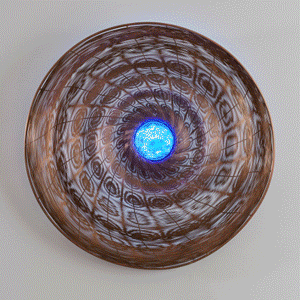 The sculptor Rodin and the painter Kandinsky are the artists who inspire Virginia the most. Kandinsky believed that music was the purest form of abstraction in art and he worked in his painting to bring color and form to that same level of purity. As with Kandinsky, music plays a fundamental role in Virginia's creations. She uses movement of the rhythms and the arc of the sound to create shapes in her mind and then transforms them into sculptures. Virginia has shown in group and solo exhibitions internationally and her sculptures are in private collections throughout the U.S.
Artist Statement
I was raised at the foot of the Rocky Mountains in Colorado, where the history and lore of the gold and silver mines gave me an early understanding of metal. Over the past 17 years, I've been refining a technique combining the ignitive force of casting with the delicacy of weaving to create woven bronze sculptures that evoke both literal and emotional interpretation. I sculpt each base in wax and then cast them into bronze. I then weld spines to the base and weave the thin bronze wire, and sometimes beads or other objects, around the spines. After the weaving is complete, a patina is applied.
Sometimes the shapes that emerge are extremely deliberate, while other times they evolve during the process of creating them.
Combining bronze casting and weaving connects me to some of the most ancient human activities, and offers a way of lending grace and movement to bronze.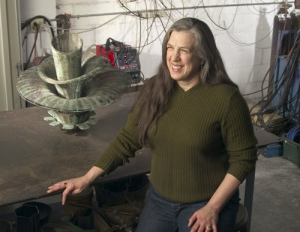 You can contact Virginia in whatever way works best for you.
Email: virginia@wovenbronze.com
website: http://www.wovenbronze.com/index.asp
Phone: (707) 293-6997
Fax: (707) 573-9426
Mail:
1585 Terrace Way
Box 521
Santa Rosa, CA 95404
Virginia also creates custom bronze plaques and other bronze work. To learn more, visit the website for Memory Markers at www.memorymarkers-plaques.com.
Exhibitions and gallery shows

2011
Represented artist
Just For You Gallery of Fine Arts
Healdsburg, CA
2010
Winner: Best in Show
Juried show: Innovations in Fiber Arts V
Sebastopol Center for the Arts
Sebastopol, CA
2010
Represented artist
Sebastopol Art Gallery
Sebastopol, CA
2010
Represented artist
Albany Arts Gallery
Albany, CA
2009-2010
Represented artist
Rice/Polak Gallery
Provincetown, MA
2009
Featured artist
Pallette Art Café
Healdsburg, CA
2008
Represented artist
Pallette Art Café
Healdsburg, CA
2007-present
Represented artist
Pop Gallery
Santa Fe, New Mexico
2007
Invited participant
Juried show, Sonoma Valley Museum of Art
Sonoma, California
2007
Represented artist
Kirchman Gallery
Johnson City, Texas
2007-present
Represented artist
Highlight Gallery
Mendocino, California
2006-2008
Represented artist
Sculptors Dominion
San Antonio, Texas
2006
Fire Goodshow
A St. Gallery
Santa Rosa, California
2005
Invited participant,
3rd Place Winner for Sculpture
2005 Biennale Internazionale dell'Arte Contemporanea
Florence, Italy
2005-Present
Represented artist
Laurence Gallery
Occidental, CA
2005
Participant in group exhibition
Arches Gallery
Healdsburg, CA
2005
Participant in group exhibition
Hanson Howard Gallery
Ashland, OR
2005
Participant in group exhibition
Virginia Breier Gallery
San Francisco, CA
2005
Participant in group exhibition
Highlight Gallery
Mendocino, CA
2003
Invited participant,
4th Place Winner for Sculpture
2003 Biennale Internazionale dell'Arte Contemporanea
Florence, Italy
2003,
2004,

2005

Participant
ARTrails Open Studios tour
Santa Rosa, CA
2003,
2004,
2005
Participant
Art For Life, Aids Fundraiser
Santa Rosa, CA
2003
Personal showing
Imani Gallery
Napa, California
2000
Day of the Dead show
A St. Gallery
Santa Rosa, California
1999
Personal showing
Kajul Gallery
Healdsburg, California
1994
Personal showing
Branscomb Gallery
Bodega Bay, California
1992
Personal showing
Forecast Gallery
Portland, Oregon
1990, 1991
Small Works Show
California Museum of Art
Santa Rosa, California
1990
Senior Show
Sonoma State University
Rohnert Park, California

Work and schooling experience

2003
Contributer
Featured on Sparks, a show featuring artists broadcast on KQED, the San Francisco PBS station
San Francisco, California
1999-present
Founder and owner
Memory Markers, a custom bronze-plaque studio
Santa Rosa, California
1992-2007
Foundry technician and chaser
Bronze+ Foundry
Sebastopol, California
1990
Bachelor of Arts
Graduated with honors in sculpture and drawing
Sonoma State University
Rohnert Park, California
1980-1984
Jeweler
Bagley and Hotchkiss Jewelers
Guerneville, California