View the original "Down Memory Lane" post
Thank you for joining us "Down Memory Lane" on the Cloverdale Sculpture Trail's website, www.cloverdalesculpturetrail.org. We asked the community and visitors to the website to vote on their favorite Sculpture from each year's Best of Show winners. Hector Ortega's "Was I Just Another One" from the 2020-2022 Trail, won with 60% of the vote. Hector is a regular in the Sculpture Trail and in recent years has teamed up with sculptor, Taryn Moore to create both Symbiotic Entanglement and "Icarus", both of which are in the current Trail.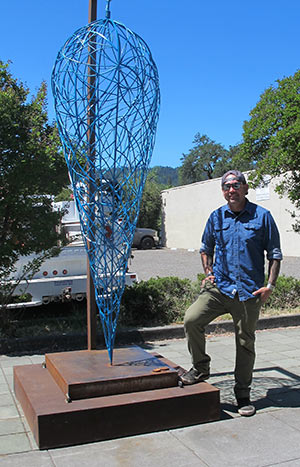 Hector is an Arizona based artist whose work focuses on abstract based three-dimensional volume forms, their relationships, interconnections and constraints among each other and combining life's experiences, emotions & the environment as themes in each fabricated element. "Was I Just Another One" was a deeply introspective sculpture that was born through a change in Hector's creative direction. After creating monumental pieces, he began to question his reoccurring constrained geometrical theme and came to terms that it was time to progress, reflect on the heart, intentions, make peace with the past and look to the future.
"Was I Just Another One"
9′ x 9′ x 9′
Fabricated Steel Construction With a Natural Oxidized Patina
Janet A. Howell
Coordinator