I make abstract assemblage sculpture, focusing on the reuse of "found objects" (using society's discards). I love the creative moment, the "not me" part, when the shapes, colors and textures interact in their "new life" with each other and the spaces they inhabit.
I enjoy the engineering challenge: how to join, display & give the union stability. Metal appeals to me with its strength, permanence, texture and colors. I am drawn to add the color and light of plastic and glass.
Recently, I am making smaller, lighter pieces. I may use cultural flotsam and detritus to suggest a narrative or representational element in a piece. The use of masks in pieces is a good example of this process. I also make pieces that are solely about the experience of abstract space, line or form.
http://www.susandrasculpts.com
susandra@susandrasculpts.com
About Hoopla
For 2005, the art community of Sonoma County created The Year of the Sculptor. I was asked to create a piece for the year long display at Paradise Ridge Sculpture-Garden to occupy a space on the edge of an oak grove.
I had some very special pieces of tower in my long-term bone yard. I decided to anchor them vertically on a heavy plate. Each tower frame was of three hollow tubes. 6 inch rods for pegs were welded to the plate to insert into the three "feet" of each tower. This made set up and transportation more practical.
Decoration began with my collection of barrel hoops, I sought more. I cut open each hoop, and rivited it, looping through various parts of the towers. I accented the top of each tower with red acrylic and aluminum.
The hoops move in the wind, drawing the eye skyward. There is no front, back or side. This sculpture "works" from all angles.
My Evolution as an Art Maker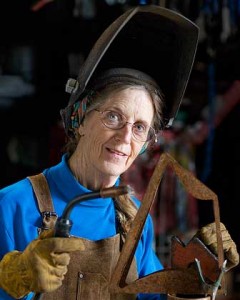 I began to explore my relationship to art making during my mid-twenties. I raised a family and taught elementary school children, with "art on the side."
During my forties, single with my children grown, I had new freedom to invest myself. While teaching full time, I began more serious study of sculpture and watercolor at Santa Rosa Junior College and College of Marin.
With this commitment, there was a shift from being "a teacher who makes art," to being "an art maker who teaches."
While I was teaching full-time, I served as art mentor for Wilson Elementary School & its community, for 2 years. I began to show my work locally, starting in community festivals, fairs and arts organizations' exhibits. I had several personal shows.
I continue this, and have added several wineries and galleries as display venues. My studio is in both Sonoma County's open studio tours : ARTrails (for 13 years) & Art at the Source (for 10 years ).
Retired, I continue making sculpture, keeping it flowing back-into-the-world, creating space for new pieces to be made!
Historical Summary of Public Display