UPDATE: "Wings of the Wind" was sold to a group creating a sculpture garden in Portugal.
Bryan Tedrick, long-time Cloverdale Sculpture Trail exhibitor, and participant in Burning Man, was asked to create a new sculpture based on a 2008 Burning Man sculpture, "Spread Eagle" for an exhibit Radical Horizons: The Art of Burning Man at Chatsworth House.
Chatsworth House is a mansion in the Derbyshire Dales, England near the town of Bakewell. It is the home of the Devonshire family and has been passed down through 16 generations since 1549. Chatsworth House is renowned for the quality of its art through the centuries.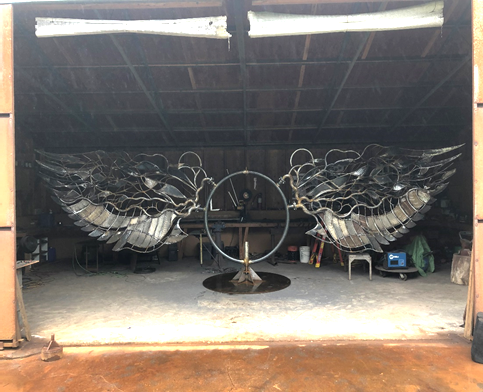 The Chatsworth staff and the Burning Man team were introduced by Sotheby's who noticed a synergy between the two organizations both having commitments to creatively and community. The two organizations and Burning Man artists worked together to bring the culture and creativity of Burning Man to the Derbyshire landscape with an exhibit featuring eight existing sculptures and four sculptures built site specific at Chatsworth.
Bryan's sculpture "Wings of the Wind (W.O.W.)" is one of the eight sculptures on display in the parkland of Chatsworth House. The following is Sotheby's description of how Bryan created "Wings of the Wind"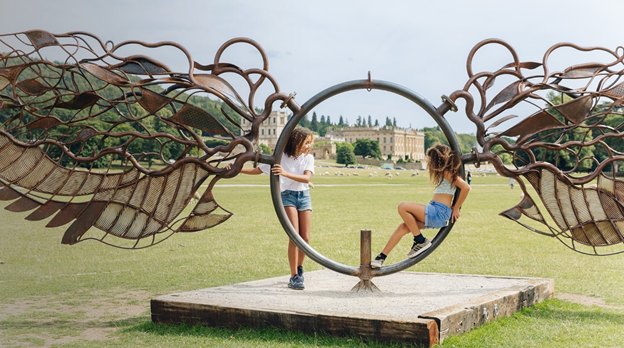 Based primarily upon another pair of wings Bryan Tedrick built in 2008 for Burning Man, these wings also include a circular frame at the center, proportional to human scale, and are able to rotate in the breeze. At 28' wide, they are dramatic as they react to the slightest wind as if they are alive.
There were no preliminary drawings for this piece. Tedrick worked the steel spontaneously, and "sketched" the primary structural arteries into being, being sure to roughly match both wings in order to maintain balance. Given these wings needed to be shipped via container, the allotted space for the wings was 7' x 12'. Working within those parameters, the artist filled in the space trying to achieve a flowing, uplifting feel. In order to catch the wind, some solid areas were created using 20-gauge stainless steel-textured sheet, which added a feathery look as well. Fine tuning the balance meant adding weight to one side or the other; a plumb bob hung from the top dead center of the ring until it balanced directly over the bearing below.
The following link will take you to the slideshow of sculptures on exhibit.
https://www.sothebys.com/en/slideshows/burning-man-artists
The exhibit began in April 2022 and will end on October 1, 2022 with the celebratory burning of the sculpture "Relevé".
Congratulations, Bryan, your creativity and art skills are being enjoyed internationally.