My conception of Coyote was simply to make an animal that would fit in the context of the desert at Black Rock (Burning man). Coyote's character also seems a good metaphor for freedom,love of wild spaces, and the tenacity to remain. The empty stomach is representative of the drive to survive and the propelling force of life on earth.Playful and pack loving, Coyote howls for companionship and the love of the hunt.
Coyote measures 26′ tall by 23′ long and 11′ deep.Weight is appx.7 tons and is made of steel and stainless steel.It was funded by and shown at Burning Man 2013.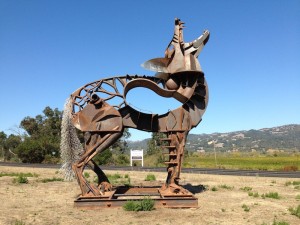 Please, if you climb on it be very very careful and at your own risk. The head will turn suddenly. This is not designed as a play structure. The price for Coyote is $125k, which includes delivery and setup within California.
Artist's Statement
There are precious moments when the mind is quiet and I can enjoy my senses without interference. Sculpting, at its best, includes such moments. Balancing space, mass, texture, color, line, pattern, weight, and proportion is a visual pleasure. Harmony is something I feel; analysis is secondary.
While I may have a general idea in mind when creating a sculpture, the passages that constitute the whole are a surprise to me. Any durable material is fair game in this process, although steel is usually best for actual connections between mediums. I grab elements that are near at hand, realizing that chance and spontaneity are keys to accessing fresh visual territory. This maundering exploration often involves stumbling corrections and meandering whimsy, but eventually concludes with a satisfying map of the journey.
There is no substitute for handmade objects; emotions, and character are embedded in the work. Art is a vehicle of expression, a means of encoding our response to the world. I hope my audience appreciates my serious folly, my love of nature and beauty, and enjoys my effort to flirt with the mystery of life.