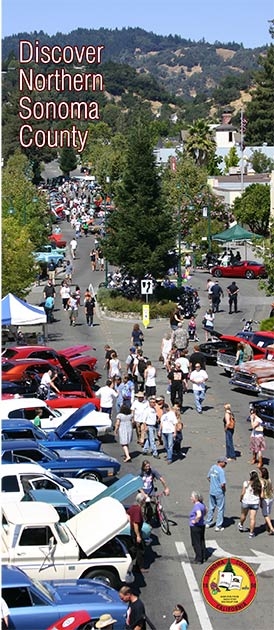 Now Is the Time to Discover Northern Sonoma County
Two small towns with charm and character, Cloverdale and Geyserville, are only 80 miles north of San Francisco on Highway 101. These communities offer History, Art, Wine Tasting, Recreational Adventures, Special Events and Unique Dining.
About Cloverdale
Nestled among gently rolling hills and lush vineyards at the top of the renowned Alexander Valley, Cloverdale is the hidden gem of Sonoma County Wine Country. Its older homes, tree-lined neighborhoods and friendly residents give the town a small town character to be experienced by visitors. Downtown Cloverdale is easily walkable with a cultural corridor of art galleries, Performing Arts Center, Sculpture Trail, wine tasting, restaurants, shops, Museum and History Center.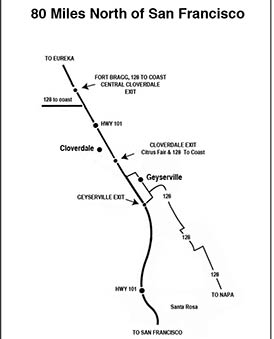 Select to View Larger
About Geyserville
Settled in the mid-1800s, Geyserville today retains the ambiance of a by-gone era and offers many enjoyable tourist attractions. Main Street Geyserville still holds the charm of 100 years ago in its historic buildings. From wooden boardwalks to Wild West storefronts, Geyserville charms its visitors with world-renowned wine tasting, contemporary restaurants and vintage chic mercantiles.