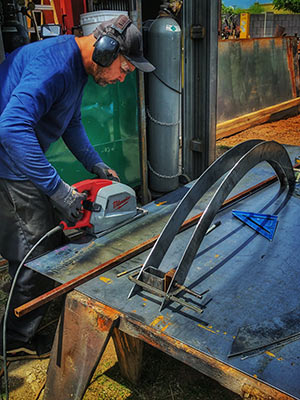 The installation for the 2020 – 2022 trail is complete. View the sculptures outside at safe distances or online with the artists descriptions of their sculptures, and their bios.
On January 2nd the "Call for Artists" was sent to sculptors, art organizations and news media with a February 28th deadline. After the deadline, the entries will be reviewed to ensure all the required material was sent. Next, the Selection Committee convene to assess the entries looking for quality, aesthetic appeal, creativeness, use of material, suitability for outdoors (scale & durability), and viewer safety. The Committee also looks at other works of each entrant, his/her resume and artist statements.
After the selection process two of the committee members decide on a location for each selected sculpture based on the size of the sculpture, best location for viewing and ADA requirements. The City also reviews the selected sculptures and their locations for viewer safety. The sculptors next are contacted that their sculpture will be exhibited in the 2020-2022 Cloverdale Sculpture Trail.
In preparation for welcoming new sculptures and saying "good-by" to ones that have graced our streets for at least one year, an install/de-install schedule is prepared. Putting together the schedule is like putting together a puzzle. The puzzle pieces are sculptor name, status (arriving or leaving), forklift needed, assistance needed, size of sculpture, time of install/de-install, volunteer to assist, size of vehicle (pickup, pickup with trailer, flatbed truck).

Sculpture Installation
Other puzzle pieces: removal of a sculpture before scheduling a new one in the same location, amount of time allotted to install or de-install depends on size plus one piece or more, size of vehicle (pickup, pickup with trailer, flatbed truck) for Public Works to determine how many parking spaces to reserve for the sculptors vehicles the day of the install/de-install. Once the puzzle has been solved, the schedule is draw up and reviewed by Public Works.
After the Public Works review, the selected sculptors are sent directions and their time to install or de-install is followed by a schedule review for the volunteers. Businesses with reserved parking in front of their establishment are notified of the scheduled activities as well as the police.
Finally, installation day will arrive and the excitement will begin.