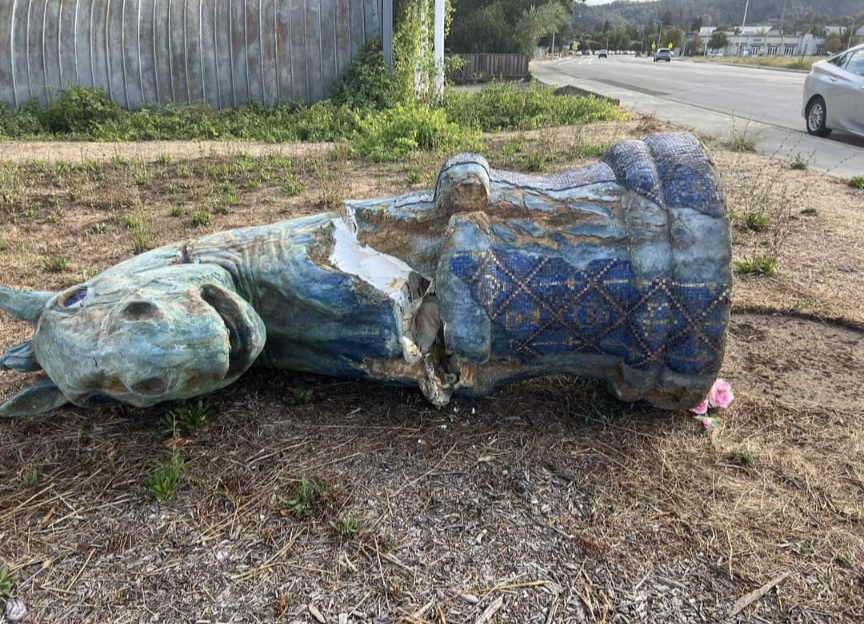 UPDATED: Read the Press Democrat article on the vandalism.
A third sculpture, part of the Cloverdale Sculpture Trail, has been severely vandalized and now threatens the continuation of the trail and the enjoyment Cloverdale and our visitors receive from it. Please read the community notice from the police and help us stop the destruction.
There's also a lot of community support pouring out on Nextdoor. Maybe together we can stop these vandals.

Community: Community Notice: Help Us Protect Our City's Artistic Treasures
The Cloverdale Police Department is writing to address a matter of great concern that has recently come to our attention – the vandalism of various art statues throughout our beautiful city.

Over the past few weeks, there have been reports of vandalism to several of our city's beloved art statues, particularly the artwork on the corner of N Cloverdale Blvd and E 2nd Street and Cloverdale Blvd at Citrus Fair Drive. These acts not only deface our cultural heritage but also disrupt the sense of security and pride that we take in our community. The Cloverdale Police Department is actively working on an investigation to identify those responsible for these senseless acts.

We understand the importance of community involvement in solving this issue. If you have any information, witnessed any suspicious activities around the statues, or have seen anything unusual, please share your information with us. Your assistance is invaluable to our efforts.

Here are the ways you can help:
1. Contact the Police: If you have any leads or information regarding the vandalism, please contact the Police Department at 707-894-2150 and ask for Officer Beau Gastineau. You can also visit the police department to speak with an officer in person.

2. Submit Tips Anonymously: If you wish to remain anonymous, you can provide tips through the Nixle tip feature.
Your cooperation will go a long way in helping us maintain the integrity of our art and culture.
Address/Location
Cloverdale Police Department
112 Broad St
Cloverdale, CA 95425