My sculptures attempt to work with – and to fight against – the spatial constraints of my chosen forms. For the chain sculptures, the pieces bump up against one another, creating structural stability but limiting my ability to place the pieces exactly where I want. I never can quite tell where I'm going to be able to fit a piece, pulling the design process out of the realm of thought and into that of intuition.
Vee and Mute are experiments in this form, pushing in related but orthogonal directions. Vee finds its motion rotating the plane of the square to create an almost two-dimensional image in one face, yet in an opposing face the pieces tilt and cross, accepting the realities of the chain. Mute seeks out a tighter form, turning about a line in the plane of the square to reach all the way back and cut against itself. The simple shapes and delicate motion gives the works a light feel, yet it cannot be forgotten that they are massive chunks of steel, each weighing hundreds of pounds.
Biography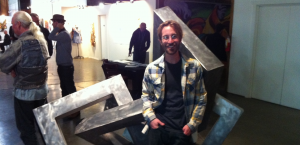 Dan Good prefers working with boxes, rectangles, lines, and things simple enough to turn around in his head. He likes thinking about the interaction between sculptures and the words used to describe them. They can be arranged in sets, patterns, and organizations of permutations. They are designed to hold air currents, sound waves, and day dreams.
His sculptural works have shown at Mills College, at American Steel Studios, at the San Francisco Electronic Music Festival, at the Music For People and Thingamajigs Festival, at the Bassbrunch concert series, at Burning Man, at Manifest Gallery, at Gallery Route One, and at the Octagon Center for the Arts.
He graduated from the Electronic Music and Recording Media MFA program at Mills College in Oakland, CA in 2010. Prior to enrolling at Mills College, Dan received degrees in Electrical Engineering from UC Berkeley and MIT. He is much happier now that he is using his engineering training to build works of art.
Sound Sculptures