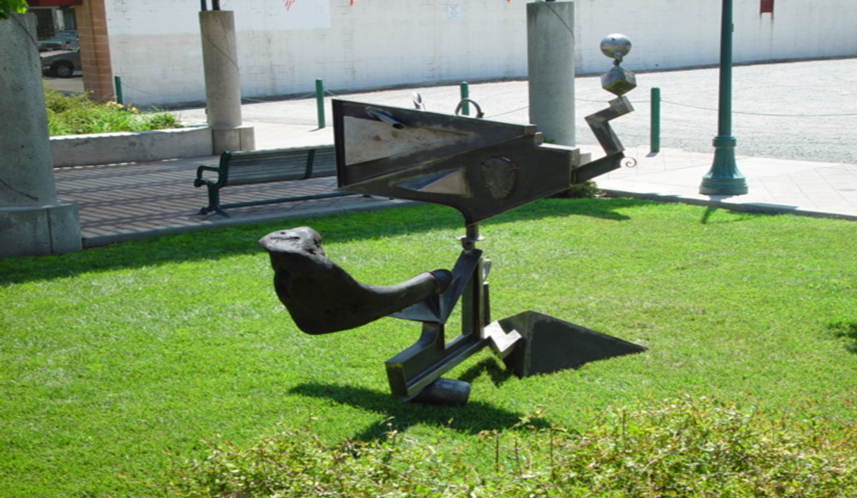 The first updated
"Thru the Years"
on our list is Bryan Tedrick who first exhibited in 2002 with "Capricclo". The meaning of "Capricclo" is work of art representing a fantasy or a mixture of real and imaginary features.
---
New coloring pages
of the latest 2022-24 sculptures are available on our "Games" tab to download as a PDF, and one of them is a paint-by-number! Print them out and let the kids (or you) color the sculptures after they walk the trail.
---
See, Hear, Explore the 2020-2024 Cloverdale Sculpture Trail in the safety of your home or anywhere in the world. The sculptures are displayed on a map with directions to the locations if you are in or near Cloverdale.  The tour includes sculptor information, an image of each sculpture and best of all, the audio comes from the actual artists describing his or her sculpture you are viewing. You can select to hear the artists' audio in English or Spanish.
---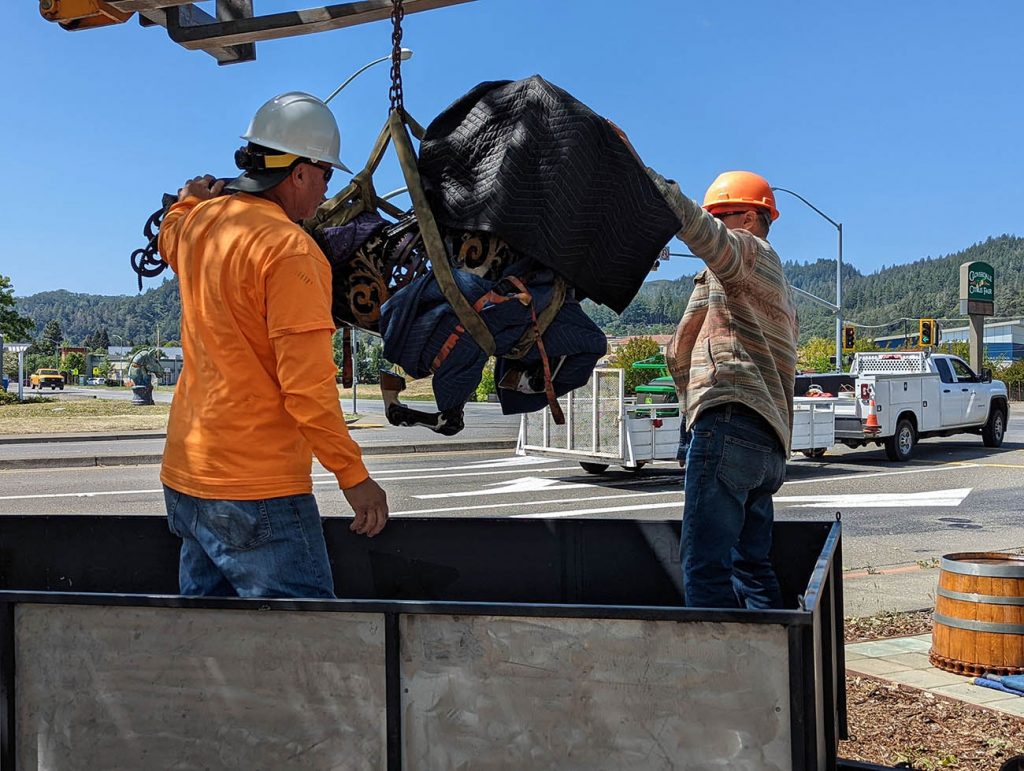 Installation was a long day in downtown Cloverdale
with four sculptures leaving and nine sculptures arriving. Four volunteers, a City forklift driver, a City Public Works employee and a photographer were in the downtown area to help load sculptures leaving and help unloading sculptures for placement for the 2022-2024 Trail.
---
Check out our new
Sculptures for Sale Flip Book
, with information, prices and how to inquire about the current sculptures for sale. It's an informative "book" that can be viewed on line, printed, or downloaded.
---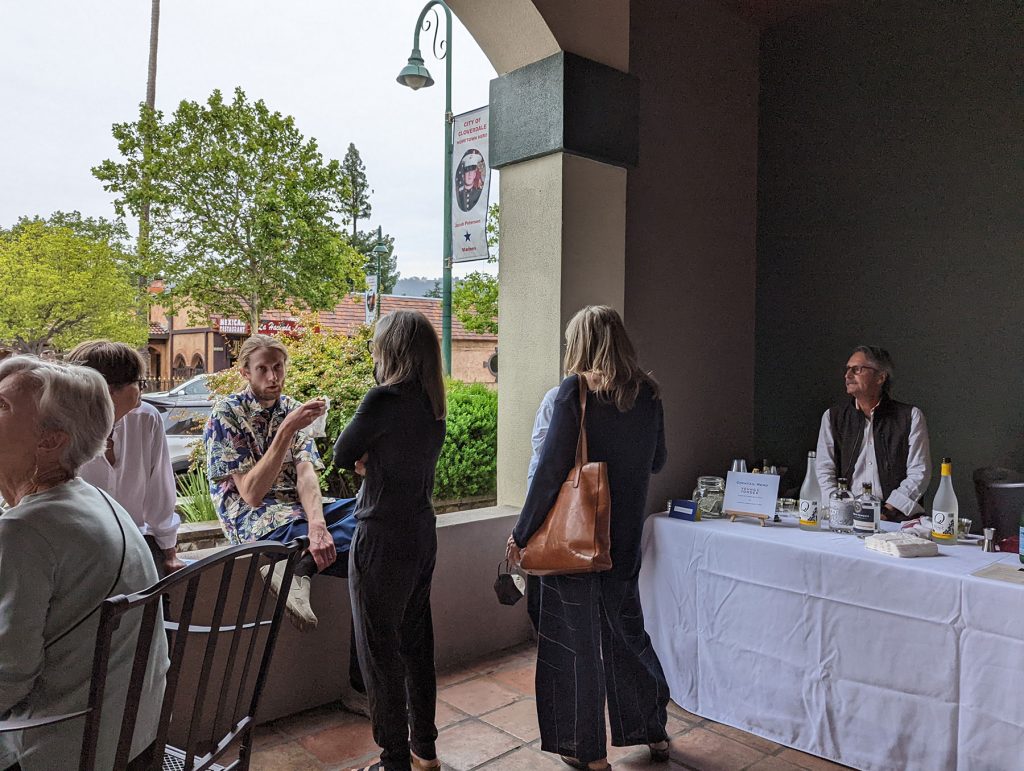 We had a successful artist reception on June 4th where we showcased the trail video and announced the People's Choice winner.
Come see
the winner and the reception photos and video.
---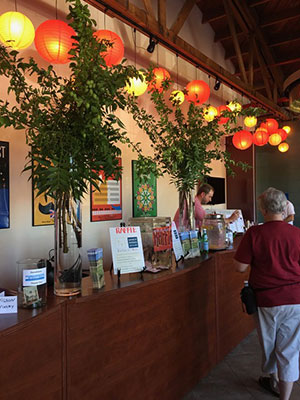 You're invited
to the Sculpture Trail artist reception on June 4th from 5:00 to 7:30 pm at the Cloverdale Performing arts Center. Live music and final voting and reveal of the People's Choice award!
---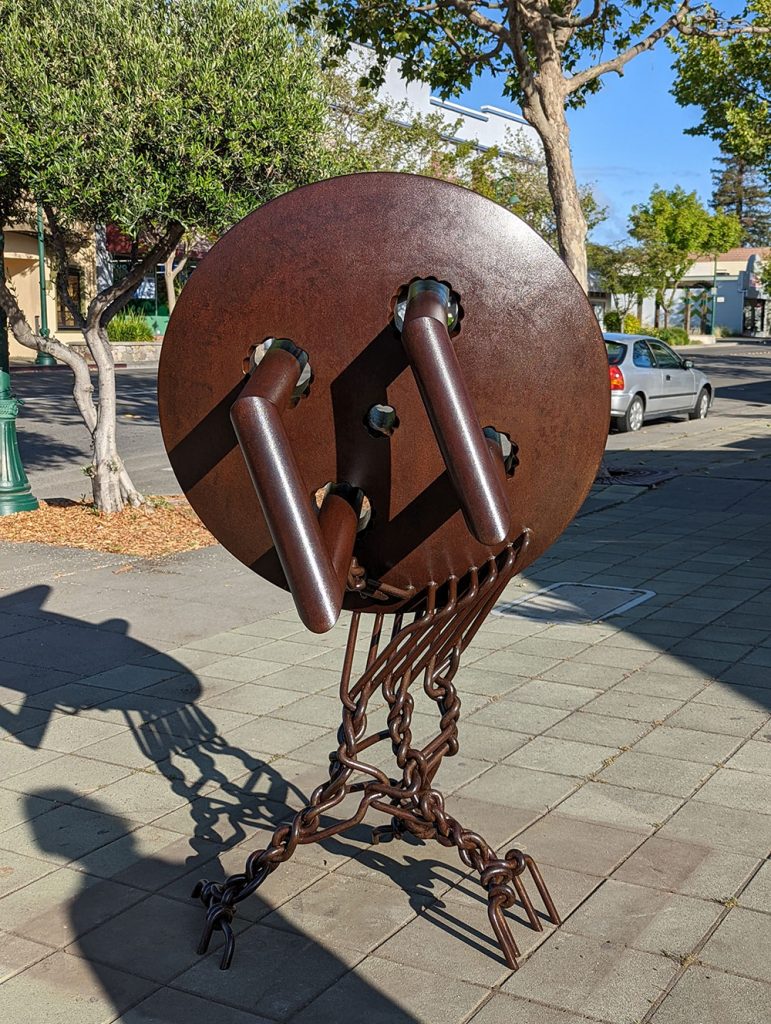 Walk the Sculpture Trail or review the sculptures on the voting page. Anyone can vote, once, and only the new sculptures are eligible. Results will be announced at the reception on June 4th from 5:00 to 7:30 pm at the Cloverdale Performing Arts Center.
---
9 new sculptures have been installed on Cloverdale Boulevard between Citrus Fair Drive and 3rd Street. Each year for 18 years, new sophisticated sculptural diversity has appeared bringing excitement and wonder; what will be on display in 2022? Walk the Boulevard and see what is being exhibited.
---
The Sculpture Trail is pleased to announce that the Cloverdale Performing Arts Center has decided to become the
producer of the Trail
. This will be one more art form that CPAC will present to the public, along with their offerings of music, dance, art exhibitions, readings. At the end of April, they will add to their art repertoire an indoor circus.
---
Expand public understanding and appreciation of sculpture internationally
Demonstrate the power of sculpture to educate and effect social change
Engage artists and arts professionals in a dialogue to advance the art form
Promote a supportive environment for sculpture and sculptors
---
---
---
---
---
---
---
---
---
---
---
---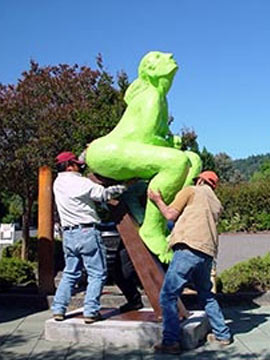 Volunteering can be fun and satisfying. The Cloverdale Sculpture Trail is putting together a
creative coordinating team
to replace the current coordinator who is retiring. The current coordinator will continue until the team is up to speed and will always be available for questions and assistance.
---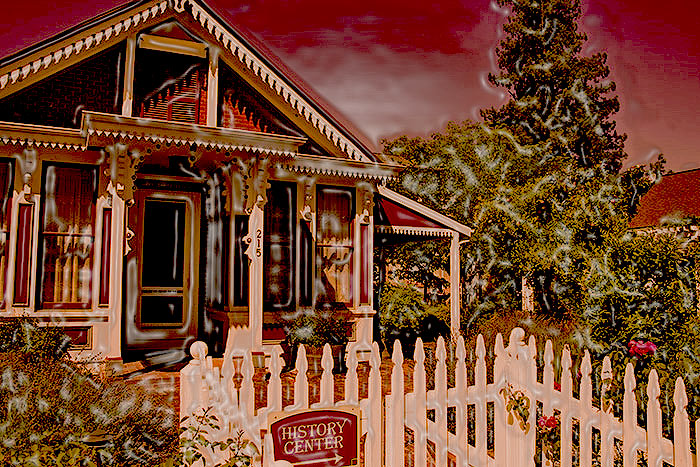 It is possible the historic Gould House is haunted. During an overnight visit by paranormal investigators, they encountered hair-raising activities of light orbs that felt like surging bolts of static electricity and something or someone touching them. The entire time in the Shaw House they felt extreme cold. Are you ready for more ghost stories? How many tricks instead of treats might you receive?.
COME ON IN!
---
Help us out with our Google Listing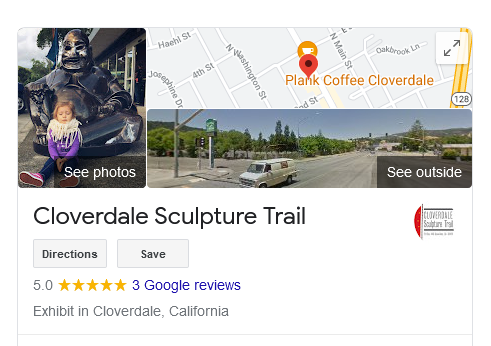 Did you know you can add reviews and your own photos directly into our Google Listing? We'd appreciate it if you'd
give it a try
.
---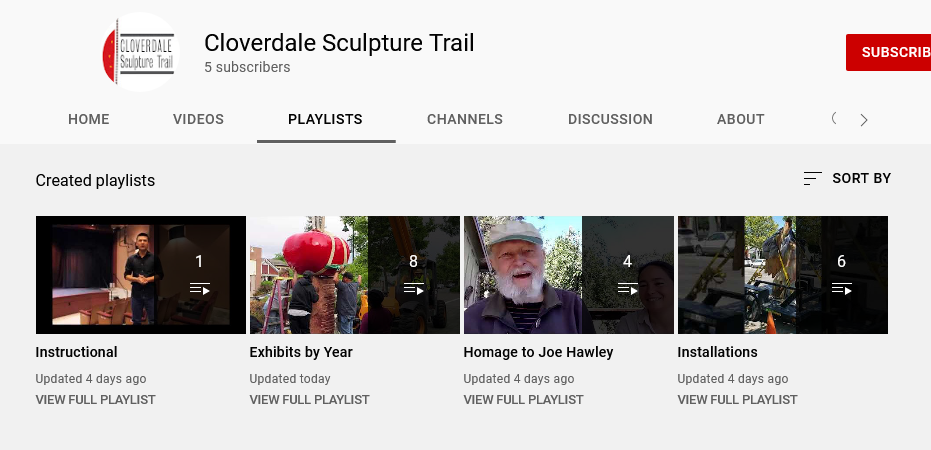 View the categories; Instructional, Exhibits by Year, Homage to Joe Hawley, and Installations, or view
all our YouTube Videos at once
.
---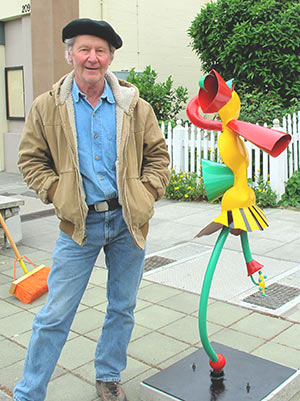 Stan Huncilman is another Cloverdale Sculpture Trail frequent flyer, first exhibiting in 2010. Huncilman works made from metal, wood, paper and fabric are enigmatic forms with even more enigmatic titles such as Dharmamatic or Bunda Mambo.
---
Enjoy Jeopardy? Then try your luck at Sculpture Trail Jeopardy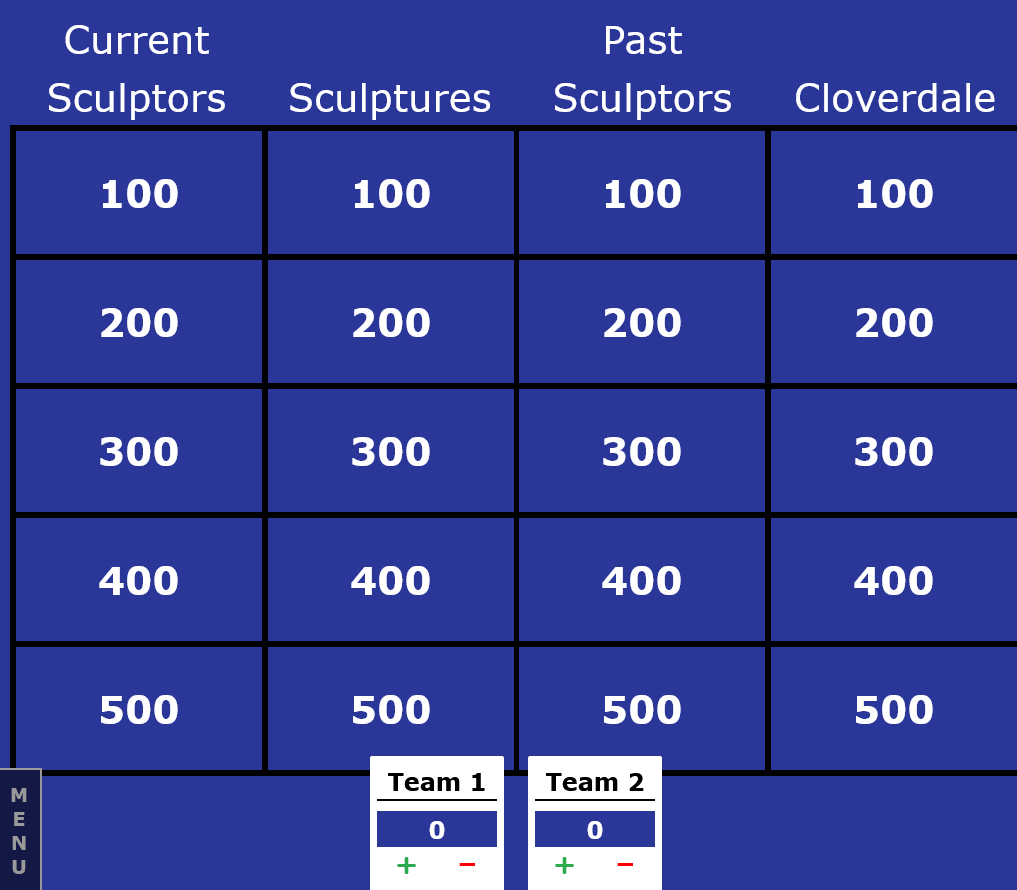 Let's play Jeopardy
! Play by yourself, with others at your location, or with a group of teams through Zoom. Easy instructions on page.
---
New Quiz on Sculptures in the Trail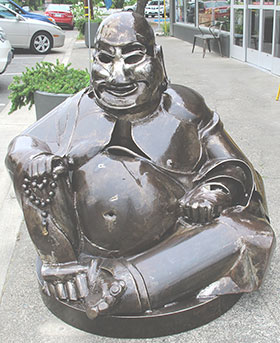 So many sculptures have been exhibited over the years by the Cloverdale Sculpture Trail. Do you remember them all? Think deeply and
give it a try
.
---
There's a New Pictorial on Crowds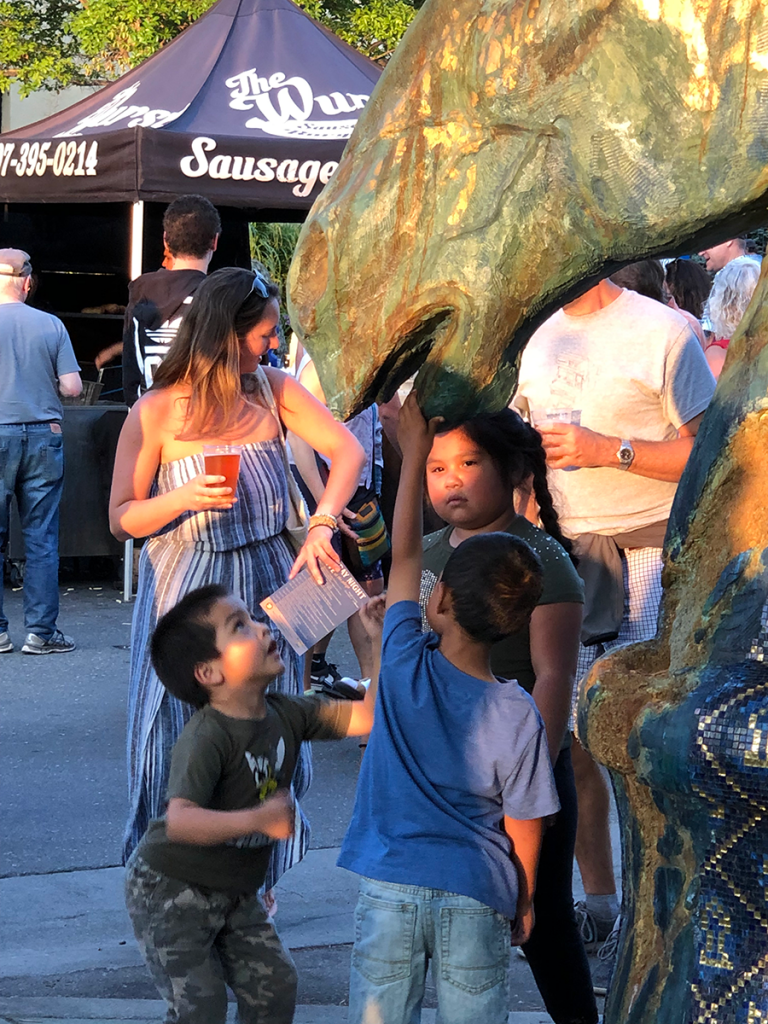 Family outings, casual walks, meeting up with old friends during events, there are all kinds of ways to enjoy the Cloverdale Sculpture Trail. Take a look through our pictorial on
people enjoying the Sculpture Trail
.
---
Like Quizzes? Test Your Sculpture Trail Knowledge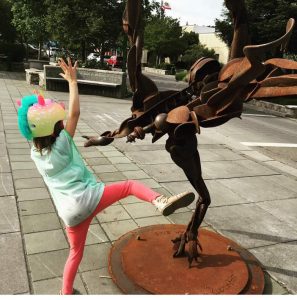 Public art is a form of participation. You can explore, experience, enjoy or pantomime each sculpture on the Trail. Now, you can take your participation one step further by
taking our quiz.
---
Derrick a Sculpture by Jam Collective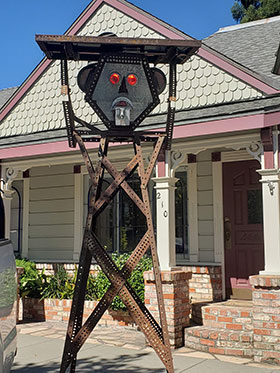 Derrick, a sculpture by Sonoma County Sculpture Jam artists, Beth Hartmann, David Furger, Jeffrey Zankel, John Packard, John Draper and Gordon Carter of Sebastopol, has been silent since being installed on July 22, 2020. "Derrick" has decided to break the silence. This sculpture has a number of messages for passerby on the E. side of Cloverdale Blvd. between E. Second Street and E. Third Street. For the curious, visit "Derrick", who has posted directions as to how to access his messages. For those who have not visited "Derrick", the sculpture references old-time derricks.  It holds up a solar panel which powers its piercing red eyes and, at night, initiated a hidden projector to direct a slow light spiral on the ground. The spiral mimics a drilling action. Is this the hybrid transition from old dependency to renewable solar energy? " Derrick" acknowledges our continued reliance on boring oil, but he's looking toward greener energy sources."
---
Homage to Joe Hawley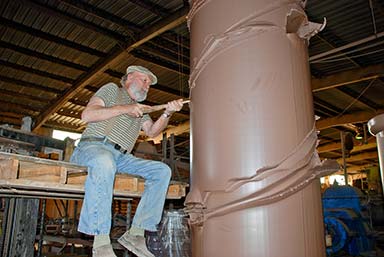 Our
Homage to Joe Hawley
for the International Sculpture Day is now permanently reachable on our
"Past" page
under the events tab.