Get another Trick or Treat or Ghost Story
It's a "Lawn Mower" Treat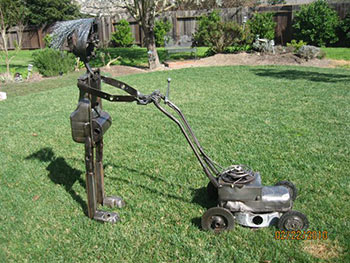 "Lawn Mower" by James Selby offers the treat of a personal mower for one year.
James describes his work: "Each piece I create is absolutely unique - no two are ever alike. All of the pieces used in my sculptures were once a part of a functioning engine or tool. I take greasy, oily, sometimes flawed metal and create unique, distinctive sculptures that reflect beauty, whimsy and humor.
Created from scrap metal.
Treat Us with Your Kind Donation
The Cloverdale Sculpture Trail is funded by the generous donations of the community.